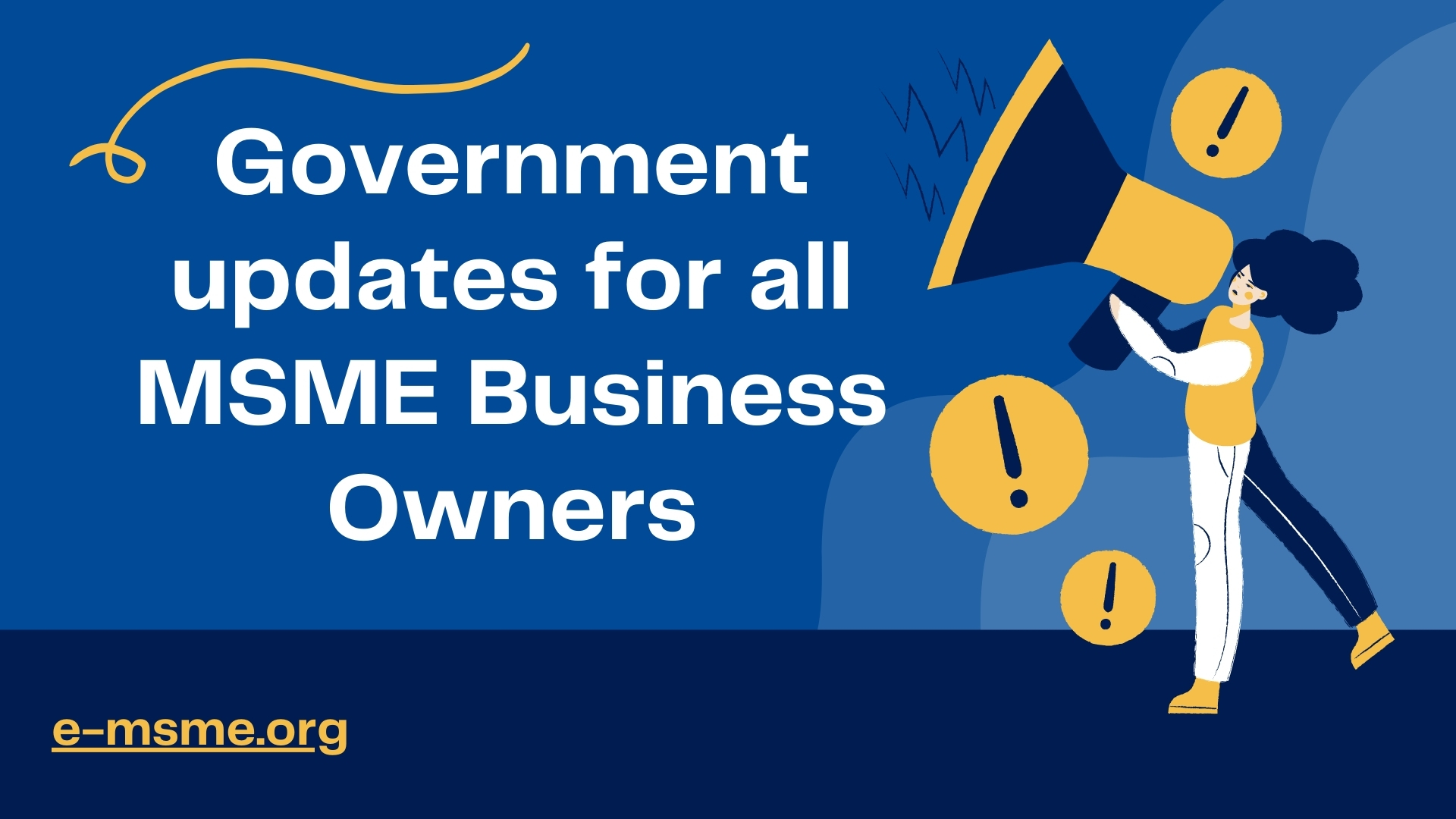 Government updates for all MSME Business Owners
After the announcement of the lockdown extension by the PM, a financial package of rupees 20 lakh crores was announced to inject in the economy so as to specifically help the MSME units. The PM urged India to be "self-reliant" under this announcement. The amount is estimated to be almost 10% of the GDP of the Indian economy. 15 relief measures were announced by the finance minister, Nirmala Sitharaman out of which 6 of them were aimed for the relief measures of MSME sectors.
Collateral free loans of up to rupees 3 lakh crores
MSME having 25 crores as outstanding credit and a turnover of rupees 100 crores will benefit from this. They are eligible for taking loans having four-year tenure with a moratorium of 12 months on principal payment. It can be availed till 31st October 2020. These loans will be a hundred percent credit guarantee that is there will be no guarantee fees and no collateral required.
The subordinated debt of up to rupees 20,000 crores
Under this, the finance minister announced that the government will facilitate rupees 20,000 crores as subordinate debt to the stressed MSMEs and NPA MSMEs who are eligible for equity support. The government will further provide rupees 4000 crores to CGTMSE (CREDIT GUARANTEE FUND TRUST FOR MICRO AND SMALL ENTERPRISES) for providing support to the banks that are lending to MSMEs by offering partial credit guarantee.
Equity infusion of rupees 50,000 crores
A fund of funds worth rupees 50,000 crores will be infused as equity into the MSMEs. This package is for those viable MSMEs who need hand-holding in this COVID-19 crisis. It will be operated through a mother fund and a few daughter funds. A corpus of rupees 10,000 crores will be set up to give equity-based funding to MSMEs which will help in the growth of these sectors and will also urge them to list on stock exchanges.
The revised definition of MSME
Finance minister Nirmala Sitharaman had last week announced a changed definition of micro, small and medium enterprises after unveiling the stimulus package. As per the new definition, any firm or enterprise with an investment of up to rupees 1 crore and turnover under rupees 5 crores will be classified as "micro-enterprise". Similarly, a company with an investment of upto to rupees 20 crores and a turnover under rupees 100 crores will be classified as "medium enterprise".
Later Union Minister of MSMEs, Nitin Gadkari told the media that "We have taken a decision to raise the investment criteria from rupees 20 crore to rupees 50 crores and turnover limit upto rupees 200 crores. So we will issue an order for that". He further said that they are also reviewing the fact that the limit can go upto rupees 250 crores for medium enterprises.
Global tenders disallowed
Under this the government mentioned that they will not allow global tenders of upto rupees 200 crores in government procurement tenders as MSMEs tend to lose in this unfair competition due to differences in size and strength. This will help the MSMEs to innovate and address the needs of the country.
Clearing MSME dues
In the final point Nirmala Sitharaman said that the government and Central public sector enterprises will release all pending MSME payments in 45 days.
Union Minister of micro small and medium enterprises Nitin Gadkari spoke on the economic package announced by PM Narendra Modi. He said that the MSME sectors will be hugely benefited from this package. It will provide relief to over 11 crore workers and also it will help the economy to come out of this crisis and the country will walk towards development. He said that with the new package they are planning to raise India's export up to 60% from 48% that will also boost the sector's growth and contribution to the GDP from 29 % to 50%. He also said that they are planning to create 5 crore new jobs to raise Indian MSMEs to international standards.
Register Now to Get The Benefits With https://e-msme.org
The owners of the business and enterprises registered under the MSME sector must not worry. The Indian government is trying its best to provide them relief packages during the pandemic. The business owners must cooperate with the Indian government's strategies to uplift their small and medium business and save the economy of the country.

If you are a new or existing business owner, looking for an MSME loan, or want to register under the Ministry of MSME. They must go through the MSME registration process for small businesses on our website.